Swiss-Canadian multi-intrumentalist, Kalyan Mitto, shares his insights and love for music on a summer day in Corfu.
I pick up Kalyan at the Corfu Buddha Hall where we had just enjoyed the singing group with Deva Premal and Miten, and head to my favourite coffee shop with the view over the beach of Arillas to one side and that of Agios Stefanos to the other. The wind blows the awnings and shifts the shadows of the sun on our table.
I first met Kalyan in 1981 when the Pune Ashram had just closed and the Osho commune in Zurich started expanding at a supersonic rate, taking up all the flats, even his, of the four-storey house at Limmatstrasse 123. However, I do not remember him as a musician at that time. "I was always in our commune band — mostly playing bass or learning to play those instruments which were missing in our band…" he puts me right.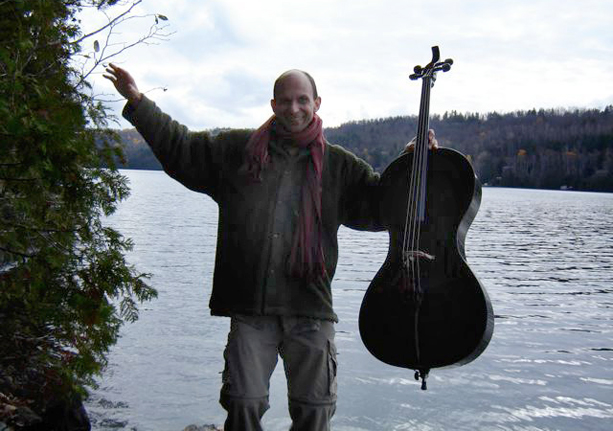 Kalyan's music studies started at the early age of seven, with the recorder; then he studied the cello from ages eight to seventeen. The way music, and in particular classical music, was taught drove him to desperation. It felt like being in a straightjacket. Then one day he locked his cello in a cupboard, dropped out of school, bought himself a guitar and, despite the loud protests of his parents, went to work on a farm for a year. He eventually agreed to finish his studies and take his baccalaureate on the condition that he could have his own flat. At the age of twenty-two, he travelled to Pune in India and became inspired by the mystic, Osho. He says he feels very lucky to have met Osho at this time because he was desperately longing for a new direction in his life.
In 1987 he left his tedious job at a bank, pocketed his savings and moved to Pune. He studied psychic massage with Sagarpriya DeLong Miller, and played the bass in Buddha Hall. At that time, Osho's Ashram attracted a large community of musicians from all over the world. Music played an important role throughout the commune activities. It was an ideal climate for musical exchange and learning.
Kalyan says, "One day I decided that music was going to be my future, whatever the cost. I felt that music, for me, was inescapable!
And when Pramada (Mike Edwards, cello player of the former Electric Light Orchestra) turned up with his cello I discovered that there were more ways to play this instrument. I asked him to give me some lessons, bought his travel cello off him (I still have it) and locked myself in my room. I started my very own deconditioning process, 'unlearning' my old playing habits and carefully analysing my posture to regain the flow in my right arm and body. I did this for four or five hours a day for months at a time and often I caught myself playing just one single note…
At that time also, the rudra veena came into my life. Osho often said that it is the most meditative instrument. It is a very quiet instrument; not loud, but you can hear the deep sounds in the gourd which is right next to your ear. So many overtones! With this instrument I learned to listen — and through listening I learned to allow myself to go deeper and deeper into sound. Each sound has the possibility of infinite expansion. It was an almost scary discovery! And more and more I came to experience what invites these moments of infinite listening and depths. This is the basis of what I do and what I teach today."
The Void is Scary
Kalyan continues: "The way I play is that I allow myself to be empty first, no thinking, like sitting in front of a tabula rasa. I become just a presence, utterly sensitive, connected, just listening – and in the playing I give myself total freedom (any scale, anything is possible). It is as if the emerging music has little to do with me. It is fascinating to see when a higher intelligence takes over, an intelligence with tremendous clarity. I try to integrate this also in my day-to-day life.
But to sit in front of a hundred people, not knowing what I will play next, is scary. Yes, it is scary! One feels like a tightrope walker; the void is just beneath!
I like to play various instruments. It feels fresh when I pick up a new instrument or one I have not played for a while and it is interesting to get to know the personality of each one. I like to dance with all of them, but the ones I know technically best are: cello, guitar and recorder."
Playing with Kalyan
While playing for the evening meditation with Kalyan the other night, I noticed that he was carefully listening to the sound of my seed-pods, feeling their rhythm and the little accents I gave them. As a percussionist I always felt that I was just filling in the gaps — like adding spice to the music here and there. I had never before experienced the feeling that I was making a contribution to which the solo instrument wanted to tune into. I felt happy discovering this.
Sharing Songs and Silence
I was also surprised that Kalyan had sung during the Evening Meditation, so I asked him when he had discovered his voice.
He replied, "For many years I had been playing as an instrumentalist. Things changed when I was asked to play at a friend's death celebration. I felt that it could not be just a concert; I wanted to include all of her friends. I picked up the guitar (it is the ideal instrument for a social event, joining harmony and rhythm) and we sang together for her."
When Punam, a singer and pianist with whom he spent seven years together, came into his life, they created two CDs. And more singing opportunities arose, so much so that for the last six years – by popular request – he has been organising Singing Celebrations at his studio in Quebec and in the surrounding community.
"First it was every two months, then once a month, and now I offer a Singing Celebration every two weeks for thirty to forty people. Last year I played in forty events and concerts – I surprised myself! I have a huge repertoire of songs but I am not so concerned about what we are singing. What I am interested in is how to convey the 'listening quality' and 'musical sensitivity'. On the other hand, mantras, which are very popular because of their exotic flavour, are powerful, so I also choose them. Then I teach beginners as well as traditionally-trained professional musicians how to listen and how to be more loose in their performance."
A Masterpiece
Kalyan pulls out a CD from his bag and puts it on the table. It is his masterpiece: 'Soulweaver'– produced by Malimba Records. This CD won the first prize in 'Visionary Awards 2006' in the USA for Best CD of the year and best CD in the "special" category. (www.covr.net).
The Next Step: Ready to Come Out
When I ask him about the future, he says, "I think I would enjoy playing in Europe. Maybe Germany would be a good place for me and my work. I love to share through the intimacy of music. I would do Singing Celebrations and Listening Workshops – listening is such a wonderful way of participating in existence…"
After dropping Kalyan off and arriving back home, I switch on my keyboard, punch those knobs I had never dared to, and play "One Breath" with the rhythm of the samba. "I am allowed to do what I want! I can even change the words and the notes. So much freedom!" Thank you, Kalyan. Talking to you has been such a great gift for me.
by Punya Kaufeler